TABELLA INCOTERMS AGGIORNATA
Cargoair è specializzata nel fornire soluzioni di import-export su misura per le esigenze dei suoi clienti. Siamo consapevoli che il commercio internazionale può essere un processo complesso, ma siamo qui per semplificarlo per voi.
In questa pagina, troverete la Tabella Incoterms, uno strumento essenziale per comprendere le responsabilità e gli obblighi sia dell'acquirente che del venditore durante le operazioni di trasporto internazionale delle merci. Gli Incoterms sono standard riconosciuti a livello internazionale e definiscono i termini di consegna, trasferimento di rischio e spese tra le parti coinvolte nel contratto di vendita.
Termini per qualsiasi modalità:
EXW: EX WORKS
FCA: FREE CARRIER
CPT: CARRIAGE PAID TO
CIP: CARRIAGE AND INSURANCE PAID TO
DAT: DELIVERED AT TERMINAL
DAP: DELIVERED AT PLACE
DDP: DELIVERED DUTY PAID
Termini marittimi:

FAS: FREE ALONGSIDE SHIP
FOB: FREE ON BOARD
CFR: COST AND FREIGHT
CIF: COST INSURANCE AND FREIGHT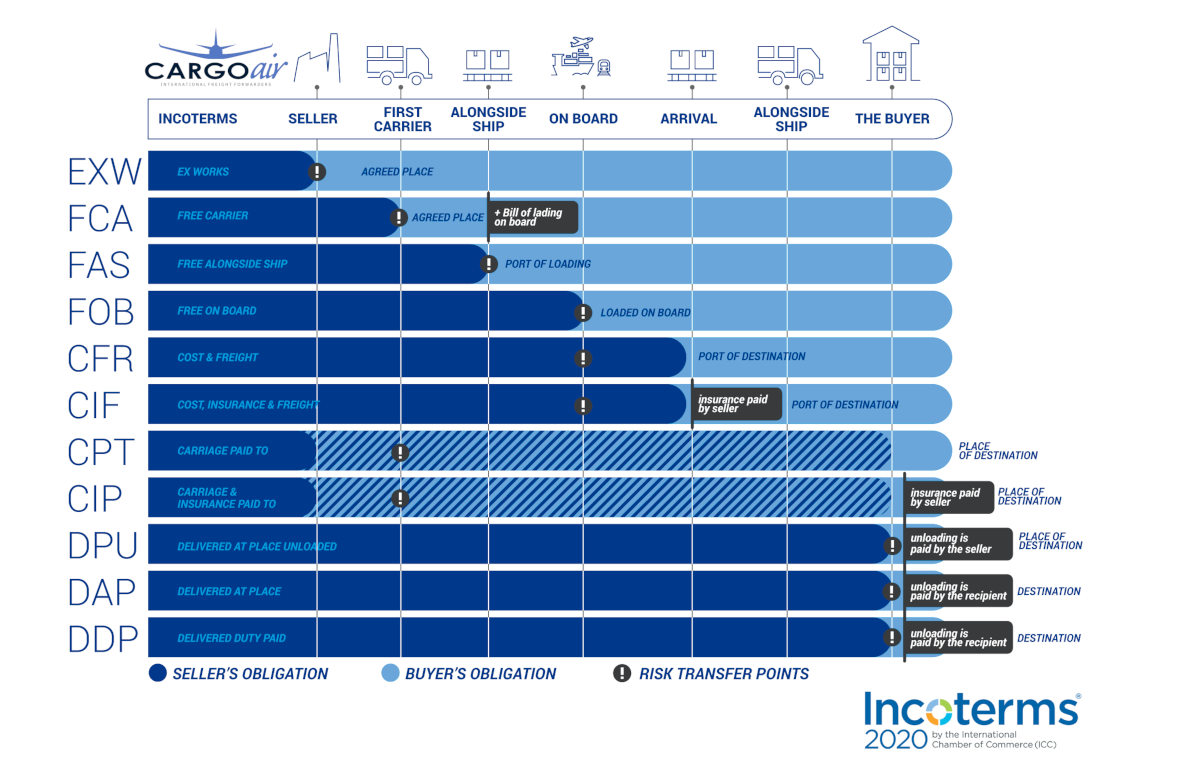 Siamo qui per supportarvi in ogni fase del vostro viaggio di import-export. Se avete domande o avete bisogno di ulteriori chiarimenti, non esitate a contattarci. Il nostro team esperto è pronto ad assistervi e assicurarsi che la vostra esperienza di import-export sia efficiente e redditizia.
Scegliete la vostra destinazione di business con fiducia, conoscendo gli Incoterms e affidandovi alla nostra professionalità per raggiungere i vostri obiettivi commerciali.